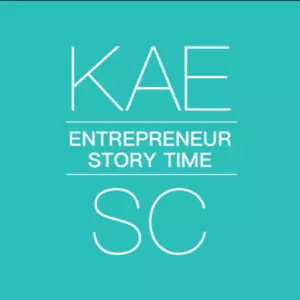 If you like hearing local entrepreneurs' stories, visiting new venues and sharing that experience with others, then join Kick-Ass Entrepreneurs (KAE) of Silver City at our Story Time events, typically on the 2nd Wednesday of every month from 5:30-7:30ish PM.
KAE features storytellers who hail from across ages, stages and industries – from manufacturing to food startups.
And with time to schmooze with other smart, hardworking, motivated, creative and
supportive entrepreneurs and like-minded community members before and after every
Story Time event, you'll get to experience for yourself just how friendly and collaborative OUR startup and entrepreneur community truly is.
Typical event flow:
5:30-6 Grab a Drink, Order Food + Schmooze
6-7ish Story Time + Audience Q+A
7-7:30 More Schmoozing
Generously sponsored by Suzi & Janey.
Go to sign up to sign up for our newsletter and follow us on Facebook so you don't miss any of our fun-filled events.
Modeled after Kick-Ass Entrepreneurs of Santa Fe (KAESF), which launched in 2018 and
organically grew to events consistently attended by 25–65 local fans of entrepreneurship,
community members and ecosystem partners each month, we're proud to be part of a growing network of KAE Communities.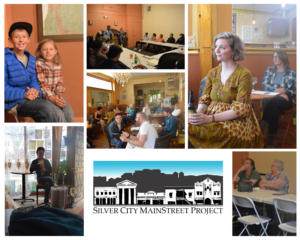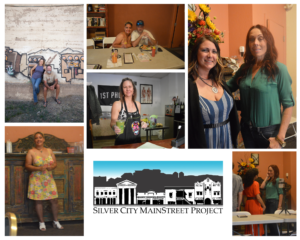 Silver City MainStreet Project has been putting on Kick-Ass Entrepreneur Story Time for over a year now!
We have had an amazing line up of entrepreneur Story Tellers! We are so grateful that they were boldly willing to tell their story of how they got started, resources that have helped them along the way and what is coming next for them. We appreciate nominations and entrepreneurs who volunteer to tell their story.
Past story tellers:
G-Boyz Beef Jerky – The Jerky Store & More: Andy and Andy Gomez
Blush: Crystal Herrera
Javalina Coffee House: Sam Aliban
Ziryabs: Brenda McFarlane
Twin Sisters Cycling and Fitness – AJ Tow
Recreation Works and Offroad Specialties: Aaron and Tighe Burg
Metal Mysterium: Steven Anderson
La Bonita Bakery: Sandra Calderon and Troy Miller
Little Toad Creek Brewery: Teresa Dahl-Bredine and David Crosley
Flowers on 11th: LaRea Holladay
TGI Frybread: Paulo and Adelina Veltri
Upcoming Storytellers:
Kyle Durie of Power and Light Press at Little Toad Creek, November 8, 5:30-7:30 pm